De Mi Corazón - Available NOW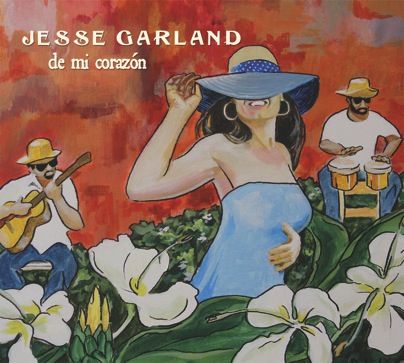 Years ago, I spent time in Havana and Santiago, Cuba to learn about Cuban music and dance.  It forever changed my life.  I rediscovered my passion in life through dancing, learning Spanish, and forming lasting friendship with the people I met on these trips.  In 2017 during the second visit, my husband Brian McRae and I got to meet Rodney Barreto.  Rodney is one of the renowned Cuban drummers who happened to be on break from touring while we were there.  Besides being one of the most talented players we had ever met, his heart was gold and a friendship was born.  We've hosted Rodney at our place a couple of times since then,.  When he last visited in January of 2020, we decided it was time for me to record a true Latin jazz EP.  De mi corazón means "from my heart" - which this album 100% came from.  I hope this music moves you as much as it has moved me. 
Thank you Rodney for coming into our lives and opening our eyes to the beauty of your world and thank you to everyone who helped bring this album to life.
Special thanks to Tommy Nahulu who did the cover artwork and helped capture the essence of what Cuban music means to me. 
Double special thanks to the love of my life Brian McRae.  He put his heart and soul into the mixing of this project.  The songs are beautiful for so many reasons by they really came to life with Brian's passion and talent.  Te amo, mi amor. 
Credits: 
Vocals: Jesse Garland 
Cover Artwork: Tommy Nahulu 
Graphic Design: Sally Van Meter 
Vivir Mi Vida, Dos Gardenias, Sway and Quizás, Quizás, Quizás: 
Drums and Percussion: Rodney Barreto (of Havana, Cuba) 
Piano: Victor Mestas Pérez 
Bass: Eduardo "Bijoux" Barbosa 
Guitar: Bill Kopper 
Produced by Jesse Garland and Brian McRae 
Arranged by Rodney Barreto and Victor Mestas Pérez 
Recorded and mixed by Brian McRae at WreckingRoomStudios.com 
Mastered by Marc Kranjcec at Peak Wave Mastering 
Besame Mucho: 
Guitar: Bill Kopper 
Bass: Eric Thorin 
Cajon: Brian McRae 
Produced by Sally Van Meter 
Recorded by Randall "Randy" Hansen at WreckingRoomStudios.com 
Mixed by Brian McRae at WreckingRoomStudios.com 
Mastered by Marc Kranjcec at Peak Wave Mastering